Tilburg Moves 2014
Welcome to the official website of Tilburg Moves 2014.
For the 6th time we will be hosting the WDSF World Open Standard & Latin. This year we have added the WDSF Under 21 Standard & Latin, World Adults 10 Dance and the Juveniles Open to the World competitions!
Competitions are danced at Sportscenter T-kwadraat | Video here

---
Tilburg Moves 2014 – first rounds
Here the Provisional timetable 2014, return here before the competition to see the FINAL timetable.
---
Tilburg Moves 2014 – Brochure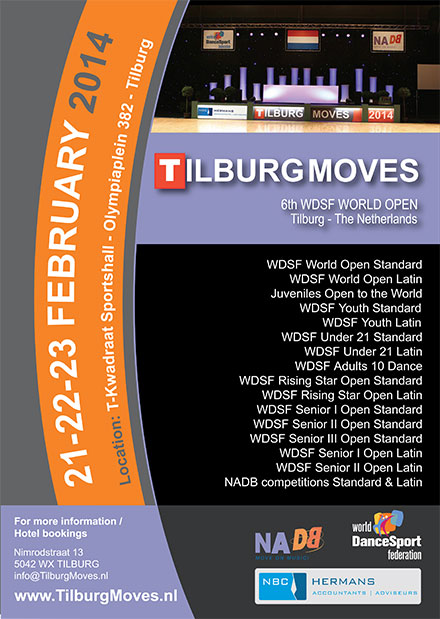 ---
Main Sponsor Tilburg Moves 2009-2014
---
---
Tilburg Moves DanceSport TV
During the competition days we will upload frequently new video's. Go see Tilburg Moves DanceSport TV to see the video's from the previous years.
---
TilburgMoves Promo
Tilburg Moves 2014 is being produced by:
www.justnoworries.nl
---